Nowadays, class size is growing and teaching resources and timings are gradually decreasing. The results of this are children falling behind in their learning. With English subjects, this is very common.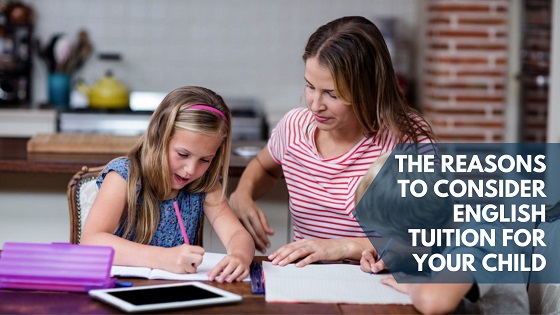 Learners must be well knowledgeable about English. After all, learning the language helps in effective communication academically as well as professionally. Also, it boosts confidence and prepares them for the future.
Wondering what actions to take to effectively improve the language skills of your child? Well, enrolling in English tuition is the best way to enhance their proficiency in this language. Tutors support and guide taking the learning style of each kid into consideration. This makes tutoring easy and quick, resulting in improved academic performance.
However, there are many more reasons why opting for English tuition is most reasonable for your child. Let's learn about them through this blog!
Top Reasons To Prefer Choosing English Tuition For Your Children
Offers Personalized Class
The main reason to opt for English tuition for your children is the customized nature of the tutoring. It means tutors teach individually on the basis of a kids' learning needs and goals. They effectively offer a personalized class that is not possible in a school classroom. Learn how it works:
Initially, tutors go for the first session with the individual child to know about their weaknesses and strengths. By getting access to those incapabilities, they further learn about their objectives and plan the class accordingly.
Moreover, tutors will guide and teach your child according to their learning styles. If one teaching method does not work well, the tutors can change and go for another one. For instance, if kids are unable to grab the information from grammar cheat sheets, they are ready with videos. At school, teachers might not consider changing the teaching approach for one student alone!
Another benefit of personalized English tuition is pace. Like in traditional school learning, where the teachers sometimes delay teaching the lessons on time. The last option left is teaching irregularly to complete the syllabus. The results are not able to get the information appropriately.But in online English class, the case is not the same as kids will never leave behind their academic syllabus. Tutors always ensure that each student understands all topics well before proceeding to another one. It means they teach the session according to the pace the children are comfortable with.
Consequently, this provides a comfortable learning environment where children feel under no pressure or embarrassment. Additionally, they are free to ask and take time to solve and get the solution to any tricky questions.
Provides Increased Concentration
School classrooms can be distracting. All because of the continuous classmates' disturbance, low energy, and sometimes more engagement outside the class window. When you opt for English tuition for your children, the learning environment is totally different. See how:
In the school classroom, teachers do not mind much to identify the student who is not able to concentrate. The results of which are not fully focused on learning the language. In addition, the learning pace also matters the most. Like some children grasp the information quickly while some take time. A distracting class environment can affect the peace of mind and knowledge-catching power of weak ones.
Most students feel uncomfortable raising their doubts and thereby being left behind in their learning. But in online English tuition, kids are able to study in a comfortable and peaceful environment as the class is of few children only. Tutors pay attention individually and help the students get back on the right track.
Also, learning from the comfort of the home provides a relaxed feeling, ensuring more focus on effective learning.
Gives Feedbacks
Feedbacks are a must to let the children know how their English learning is progressing. They will be able to know what their weak points are and how they can make improvements. Learn what is the difference between receiving feedback in school classes and tuition classes:
In school teaching, teachers do not have that much time to pay attention to each kid's learning and give feedback. This is because of the number of students in the class and the focus more on completing the academic syllabus. But remember that feedback is very necessary for every student to move forward confidently to the next step of learning.
So, if you want your kids to receive feedback, English tuition can help. Tutors individually supervise every student and take notice of their weak points. During the session, they highlight those weaknesses and let each child know where more improvement is needed and what measures to take for the same.
Actually, tutors help the children in focusing on those weak points until they understand and learn appropriately.
Regular Practice
At school, for learning the English language, kids can depend on the class, and that too is not scheduled daily. When the bell rings, the books and focus shut there only. A short class period is not enough for the right amount of teaching and practicing. The reason is as teachers need to adjust their teaching speed according to the class timing.
There is a saying that practice makes everyone perfect. So, to ensure the same, English tuition is the most promising way to keep up regular practice so that kids can understand quickly. Learn how tutors provides the great guidance:
Tutors in addition to tutoring, help students in daily practice. In every session, they teach each topic and focus more on practicing according to kids' proficiency level until understood well.
For instance, many kids struggle a lot with writing a good composition. Tutors customize the practice such as focusing more on grammar, spelling, and vocabulary. They allow the children to know more and more words with their synonyms and antonyms and correctly use them in sentence formation.
With regular practice, English tutors also implement the discipline to dedicate much time to learning the language that schools can not do alone.
Improves Speaking Skills
For the secondary exams, along with writing, speaking skills also matter the most. Students need to sit and read the passages asked in the question and answer session. Here, fluency in the English language is a must for performing well. Opting for secondary English tuition is the key! Learn how:
Firstly, tutors let the students understand well the difference between spoken and written English. It is because many write perfectly, but when it comes to speaking, most end up making huge mistakes.
Tutors plan special activities like reading a book to check and ensure the kids can speak fluently and rightly pronounce every word.
Ways To Select The Best Online English Tuition
It can be a little challenging to choose the best online English tuition for your kids. But, considering certain factors can help you reach the right one. Here, are the tips and tricks to go for:
Firstly, make sure the tuition center you are approaching has well-qualified and experienced English tutors.
Secondly, ensure that the tutors have a good reputation, useful in trusting them wholeheartedly for the right learning of your kids.
Tutors must be capable of giving great support and guidance to children in an online setting.
Also, cost matters, so look for affordable tuition services.
Summing Up
Good service of English tuition is the key to effective learning of the language. Tutors expertly guide the kids with inspiring sessions, making them confidently proficient in writing and speaking skills.
So, enroll your child in English tuition today and ensure their great success academically.