Do you dream of dressing up as a fairy-tale bride with flutter sleeves, floral beading details, and a brimming skirt on your wedding day?
You could be a bohemian bride!
Wondering what a boho wedding dress is and what a boho-style wedding is?
Boho style wedding dresses are effortless gowns designed using different fabrics for the maverick bride. Setting itself apart from traditional style, the bohemian gown features distinguished dramatic sleeves and graphic lace capturing a carefree vibe.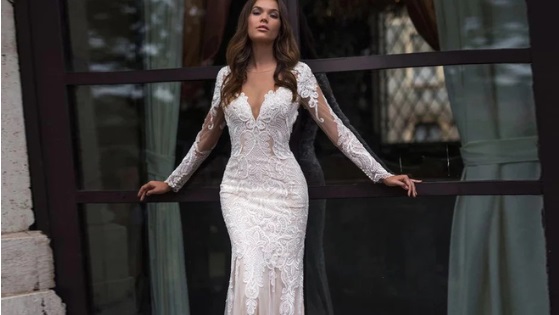 When talking about boho-style weddings, though the style originated in the years 1960 and 1970, it continues to influence the wedding style and fashion today. Bohemian brides and grooms love to do things differently. Everything from fashion to décor embraces natural elements that are filled with romanticism and individuality.
10 BEST BOHEMIAN DRESSES
From beach weddings to intimate ceremonies, boho dresses are the styles that please any bohemian bride. 10 best bohemian dresses are described below:
1. Lace On BOHO Wedding Dresses
When looking for a dress with sophisticated fabrics, layers, and overlayers, the lace on a boho wedding dress comes in a wealth of styles. The gown looks gorgeous when ensembled with crocheted lace. Nobody would be able to keep their eyes off the boho lace wedding dress.
This ethereal mermaid piece is sure to flatter any body type. The gown with a full lace bodice along with long lace sleeves and lace sweep train adds a timeless magnetic touch to all kinds of women.
2. A-line boho wedding dresses
When a chirpy bride shows off tradition, you can spot a bohemian bride in an A-line silhouette.
Figure-flattering A-line gowns add glamour to the bride offering eye-catching elegance down to the flowy tulle skirt. This classic silhouette makes the bride feel dreamy and effortless on her wedding day.
3. Bohemian Backless Wedding Dresses
The new go-to style for summer weddings is the bohemian backless wedding dress. The straight boat neckline with deep open V back and sweep train makes the bride look effortlessly elegant.
This simple graceful sheath gown will make you live your classical romance dreams.
Even if the wedding is overseas this backless crepe chiffon sheath bridal wedding gown will surely make heads turn!
4. Romantic Bohemian Wedding Dresses
When we talk about bohemian-style weddings, the term 'romantic' just sprang into our mind. The dress has a perfect structured fit which every bride would love to wear. Its off-shoulder neckline and exquisite floor-length tulle skirt bring out the bride's childhood fairy tale imagination. The dress looks stunning for an outdoor ceremony.
5. Floral Gowns
It comes as no surprise that a floral boho wedding dress may always top the list of boho wedding dress trends. Whether looking for the full-on floral extravaganza or curtailed look, florals are everywhere.
Floral designs are classic and can give a romantic touch to any wedding dress. The right amount of texture and floral detailing adds opulence creating a subtle and eye-catching look of the dress. Moreover, Boho brides in floral dresses look more cheerful. Not just for spring but these floral lovelies can be worn throughout the year.
6. Ball Gown Wedding Dresses
The only dress that can give the ultimate classic bridal look to a girl is the ball gown. Perhaps the most traditional of all dresses, this romantic A-line wedding bridal gown features off-shoulder cap sleeves, tight lace floral bodice with a beautiful lace cascading bell shape skirt.
The timeless, dazzling dress has descending layers of fabric in the skirt that gives an illusion of wider hips. Brides with straight body shapes or with an athletic frame can blindly choose the dress and picture the traditional fairy tale wedding.
7. Column Wedding Dresses
Perfect for brides who don't want to sink into various bulky layers but still want to show off a defined figure. Though the column wedding dresses are a little understated it still ranks up the list of relaxed casual bridal looks. This satin V-neck beach boho dress has a chapel train that gives a gorgeous mermaid look to the bride.
8. Long-Sleeved Bohemian Wedding Dress
The gown with a scoop neckline and tank lace bodice with a V back gives a sultry and uber-glam look to the bride. Moreover, sleeves add character and fashionable flair to the wedding dress. Especially, long sleeves in a tulle lace bridal wedding gown add an alluring quality to the fairy-like gown.
9. Vintage-inspired Lace Boho Dresses
Vintage-inspired lace boho dress is perfect for the brides looking for a traditional dress but with a modern touch. Think lace, beading, and classic silhouettes for a timeless look.
This dress has a high lace neckline and a deep V front mirage with an open back along with a sweep train. The piece gives a perfectly rustic look to the traditional conservative bride for a barn wedding.
10. Chiffon Wedding Dress
What more a girl can expect than a chiffon wedding dress for her D-day!
Perfect one-shoulder A-line slim-fit wedding gown that even when styled with a cape gives an elegant look. This chiffon
You can also accessorise the bohemian dress with braids, flower crowns, and soft waves to complete the bohemian look.
WHAT THINGS DO I CONSIDER WHEN SEARCHING FOR MY IDEAL BOHEMIAN WEDDING DRESS?
Over the past few years, the Bohemian style has appealed to mass people comprising different styles. Bohemian brides are enthusiastic and those with high boho spirits opt for different dresses- the formal one for the ceremony whereas the other one is especially for reception.
When looking for your ideal bohemian wedding dress, consider the gown that makes you feel beautiful. Here are a few pointers to be considered:
Plan for the wedding theme before you shortlist the dress.
Think of the season before you buy.
Depending on the theme you choose for your wedding, you can buy a casual garden party-themed wedding or a formal romantic affair dress.
Decide on the kind of look you want to have on your wedding day- classic, vintage, glamorous, or romantic.
The fabric of the wedding dress plays a vital role. For instance:
If the wedding is at the beach, the soft and lightweight fabric like satin works well.
If opting for forest nymph, go for a crepe or romantic off-shoulder wedding dress.
For the desert location, soft tulle or chiffon, the most breathable fabrics should be chosen. It's up to you if you go for a sleeveless or off-shoulder dress.
Do keep your travel arrangements in mind especially when you have a destination wedding. You cannot take a ball gown along just to exceed the baggage specifications at the airport.
Last but not least, shop early, plan your budget, and accordingly buy your ideal bohemian wedding dress so as not to break the bank.
WHERE IS THE BEST SPOT TO BUY A BOHO WEDDING DRESS?
Various designers specialise in Bohemian-style wedding dresses. But it is advisable to 'Research well before you finalise.' Take time to shop so as not to make a hasty decision and you get to wear what you longed for.
WRAPPING UP
Roll your eyes over all the bohemian dresses or go through all the lovely pictures of the bohemian brides. Find the one that pulls your attraction the most. Connect an adept designer that understands your needs and skillfully designs the bohemian dress that you dreamt of.